Finding the perfect engagement ring is one of the most daunting tasks many people will ever face. The ring should be the ultimate expression of love and commitment, as it proves to your beloved that you are ready to embark on the next chapter of your life with them.
Such a ring requires a personal touch, and it can be difficult to find the perfect fit for your loved one in an abundance of styles and precious metals. As you read on, we will make the procedure easier for you.
ENGAGEMENT RING SETTINGS AND STYLES
From the round-cut classic diamond ring to the more contemporary versions – in today's market you have the luxury to choose from a great collection of engagement ring settings and styles.
What metal the ring should be composed of depends on your preference. A yellow gold ring gives a warm luster and is easy to maintain. A ring made of white gold greatly compliments the diamond and is more durable than yellow gold. Other alternatives are rose gold, and platinum which is less irritating to the skin.
The rings can also differ in the choice of center stone, from diamonds to other gemstones like sapphires, rubies, emeralds etc. Diamond engagement rings are nevertheless the most commonly used, and the preferred option is a solitaire ring composed of a plain band in white gold with a single stone diamond. This choice is simple and timeless, and it is also easily adjustable if you happen to get the size wrong the first time. Other popular styles are vintage or halo engagement rings.
The alternatives and combinations may seem endless; however, this also gives you the opportunity to find your own perfect fit. Tesori provides a wide range of ring styles and settings, and you are welcome to contact us if you need further guidance.
THE DIFFERENCE BETWEEN A WEDDING RING AND AN ENGAGEMENT RING
When a person wears an engagement ring, it indicates that they are engaged to be married. It is a symbol of love and commitment and is often composed with diamonds.
A wedding ring, sometimes called a wedding band, indicates that whomever wears it are married. This ring is also a symbol of love and commitment, but it is something that in Western countries usually is worn by both the man and the woman. In countries like Norway and Germany, the wedding ring is traditionally worn on the right hand.
ON WHICH HAND SHOULD YOU WEAR YOUR ENGAGEMENT RING?
One of the most commonly asked questions about engagement rings seems to be whether it should be worn on the left or the right hand. The correct answer is simply: both are acceptable, as customs vary across different cultures.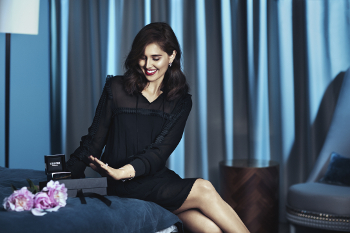 In some countries, for instance in Norway and Germany, the engagement ring is commonly worn on the ring finger of the left hand but moved over to the right hand once married. In these countries the wedding ring is worn on the right hand, which makes it natural to join the two rings eventually. The reason for placing these rings on the right hand is presumably because the right hand is the one we use to make an agreement or to swear an oath with.
In many countries, however, the ring is traditionally worn on the left hand. In ancient time, the Romans' believed that the fourth finger on the left hand had a vein that lead directly to the heart, the "vena amoris". To place the ring on this finger would therefore be a symbol of love.
MEN'S ENGAGEMENT RINGS
In Western countries, the engagement ring is traditionally given by the man and worn by the woman. Changes in society's views on gender and marriage equality have however altered this tradition somewhat.
Some years ago, there used to be a saying that a woman could propose to her man during a leap year, but in today's world, a woman proposing is no longer that unexpected. There is also a significant number of same-sex couples whom naturally likewise wants to show the world that they are about to embark on a new journey with their beloved.
This has made room for the term "mangagement ring" to blossom – engagement rings for men. These rings typically resemble other men's rings. They are not as outstanding as a woman's ring, but rather plain and simple and with a smaller diamond or gemstone.
PRICE AND QUALITY
What is the typical price of an engagement ring? Many probably believe it is quite an expensive investment. In the United States, it is a well-known «rule» that it should cost the equivalent of two months' income. However, the price range of engagement rings vary greatly, depending on the size and the quality of the center stone as well as the metal and the shape of the ring.
When considering how much to spend on a ring for your loved one, you should find a balance between your beloved's expectations and your financial situation. To make sure you benefit from your investment, find a provider you can contact to view the ring as well as one that can help if service is needed after the purchase. Tesori Diamonds has an online store and showrooms in the heart of Oslo and Bergen. We provide the same exceptional service to online customers as we do to those visiting the store.
WHY ARE DIAMONDS TRADITIONALLY USED IN ENGAGEMENT RINGS?
Diamonds aren't a requirement for engagement rings ¬– they can contain other gemstones – however they are the most commonly used. A diamond is the strongest of all materials, and has thus become a symbol of deep, everlasting love. A diamond is also suitable for any occasion and can be worn to festivities as well as everyday activities.
ENGRAVING – UNIQUE ENGAGEMENT RINGS
One way of making your ring unique is by engraving a small text inside of it. An inscription like this will make the ring more personal, as the text can be whatever you wish.
The most common practice is to engrave your and your significant other's names or initials or the date you got engaged on the ring. Many also inscribe a phrase that has some kind of significance to them, for instance "I Love You", "Forever Yours" or "To my Soulmate".
HISTORY
The history of engagement rings can be traced back to ancient Rome. The ring symbolized the bride belonging to someone, however rings with diamonds didn't appear until centuries later.
The first documented use of a diamond ring to signify an engagement was in 1477, when Archduke Maximillian of Austria proposed to his betrothed Mary of Burgundy. This preceded European nobility, where those of higher class and significant wealth would give diamond rings to their loved ones.
After diamonds were discovered in South Africa in the late 1800s, a vast supply and demand for diamond engagement rings were created. Over the years, rings composed with diamonds became the most common ones to give to a loved one.