Diamond rings have been in style for centuries. A diamond is the toughest of all materials, and a symbol of deep, everlasting love. Diamond rings are often the top choice for special occasions, and they are commonly used in engagement rings and wedding rings. There are plenty of different designs to choose from – it all comes down to your own preferences.
PRICE OF A DIAMOND RING
The cost of a diamond ring depends on the size and the quality of the diamond as well as how the ring is composed. A ring with a large center stone and several side diamonds will naturally have a higher price than a solitaire ring with a single diamond. Nevertheless, there is a plethora of different rings to choose from, making it easier to find one within your budget.
To purchase jewelry online can be quite risky. Therefore, if you don't live nearby any of our showrooms but wish to have a closer look at our products, Tesori has a free-of-charge solution for you which lets you see the jewelry before you purchase it.
DIAMOND RING SETTINGS AND STYLES
Diamond rings are for everyone, both men and women. From the round-cut classic diamond ring to the more contemporary designs – today you have the luxury to choose from a wide selection of diamond ring settings and styles.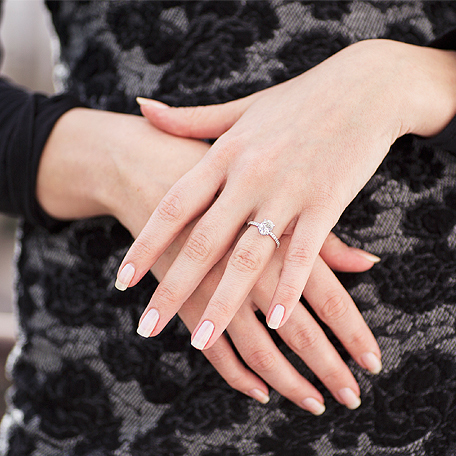 In addition to the classic round brilliant, the most popular styles are princess, oval and cushion cut diamonds. Many are also fond of rings with side diamonds or halo rings. For engagement rings, the most popular style is a solitaire ring composed of a plain band in white gold with a single stone diamond. However, the design is up to you.
A band made of yellow gold is classic and easy to maintain, whilst white gold compliments the diamond in a remarkable way. Rose gold and platinum bands are other options – it all depends on your preference.
DIAMOND QUALITY
What determines a diamond's quality is the cut, the clarity, the color and the carat of the stone. These are called the four C's. The cut shows the diamond's ability to reflect light. The clarity of the rock refers to the absence of inclusions and blemishes. The color actually means the lack of color – the more yellow it is the lower the quality. The diamond's carat weight measures the size of it.
All of Tesori's diamonds are colorless, rare white, and have a quality of Top Wesselton (F). When you purchase a diamond from us, you will receive a certificate that proves the jewelry you bought is a true Tesori Diamond creation, made according to professional, ethical and technical standards.
HOW CAN YOU BE SURE THE DIAMOND IS REAL?
A GIA diamond report is the best possible assurance that the quality of the product you purchase actually is what the seller claims it to be. With this certificate you can be 100 % certain that the product is legitimate. However, fake certificates do occur, so pick your supplier carefully.
Unfortunately, there is no "easy" way to determine whether a diamond is real or not. There are many tests mentioned online regarding this, but many of these are myths. For instance, the only way to spot a man made diamond is by laboratory testing – it is often not possible to tell by looking at it through a magnifying glass.
Ultimately, if you are in doubt whether a diamond is real or not, the best way to be certain is to have a jeweler examine it.
HOW TO CLEAN AND MAINTAIN DIAMOND RINGS
Because diamonds are the hardest material there is, they are impossible to scratch. They are however natural magnets for grease, so they will quickly become lifeless and lose their glow. Luckily, you can easily clean it with a small toothbrush, warm water and some dishwashing soap. Do not use toothpaste, ammonia or chlorine products when cleaning a diamond ring – this can wear down and discolor the precious metal of the ring and make the gold lose its luster.
To keep your diamond jewelry bright and shiny for as long as possible, you should take them off when you shower and when you do sport activities or any work around the house or in the garden. It is a good idea to let a jeweler render service on your jewelry once in a while, to ensure it is still intact.
Tesori has special equipment for a thorough cleanse if required. We can also refurbish and rhodium plate your ring, which are low-cost, simple procedures making the ring look like new.
ENGRAVING
If you want to make the ring or diamond you purchase unique for your loved one, you can engrave a small text inside of the diamond. By doing so, you will make the ring more personal, and an inscription like this does not affect the diamond's value or quality.
You decide the text you want to engrave. It can be a special date, you and your significant other's names or initials or it can be a few words that have significance to you. Some of the most popular terms to engrave are "I Love You", "Forever & Always" and "Never to Part".
When you purchase a diamond or a single stone ring from Tesori, we offer laser engravings of the diamond free of charge.